Having a smooth ride depends on the vehicle suspension system. Keeping the suspension system of a car or truck in good shape will take the bumps and bounces out of your drive.
Mevotech and Moog are two of the most well-known vehicle suspension brands on the market. But which one is right for you?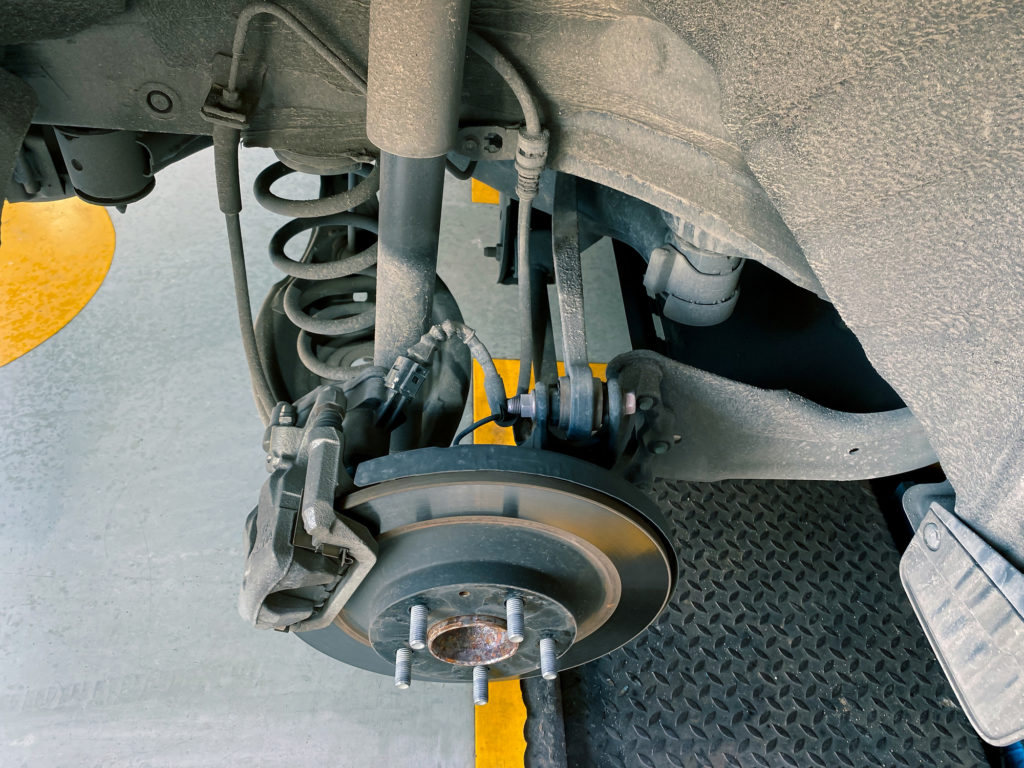 Brand Overview
To help you determine which brand to choose – Mevotech or Moog – we've created the ultimate vehicle suspension brands comparison. Here are their similarities and differences.
Mevotech
The Canadian company Mevotech has been manufacturing vehicle suspension replacement parts for nearly four decades, so this gives them an advantage in experience, expertise, and customer service. Mevotech has suspension parts that fit most auto makes and models.
Since Mevotech is focusing on the aftermarket, they're experts in adjusting to the different types of cars and trucks on the market that might be in the market for replacement suspension parts. Offering parts that are designed for the differing weights and sizes of vehicles that will need replacement suspension parts ensures the smoothest ride and best performance.
Mevotech brands include Tough Terrain Extreme (TTX), Mevotech Supreme, and Mevotech Original Grade. TTX is geared for vehicles that will be used heavily, such as commercial trucks and vehicles. Mevotech Supreme parts, designed for durability, are best for vehicles used daily.
Mevotech Original Grade parts are the most cost-effective of the three brands, but they still are tops in handling and durability. Mevotech research and development and its manufacturing excellence make their replacement parts among the best available. Their quality control and product testing are also top-notch.
Moog
Moog's experience in parts manufacturing makes it a granddaddy of the industry. Moog has been designing and manufacturing suspension parts for vehicles since 1919 and is known around the world for the superior quality of its replacement parts.
An American company, Moog has a wide selection of steering and suspension products, parts, and repair kits, which help mechanics and car enthusiasts deal with any vehicle suspension issue. Moog also analyzes the world's automotive trends, so they have compatible suspension parts for all types and sizes of cars and trucks.
Moog's customer-focused designs show in pre-mounted parts, making installation faster and easier.
Virtual training, newsletters, and information on Moog's website educate aftermarket customers to help them understand Moog parts and choose the ones that are best for their vehicles.
Mevotech vs. Moog Accessories Comparison
Every automotive expert has a favorite brand of parts, so there will be differences of opinion when it comes to accessories from Mevotech and Moog. Here's our professional opinion on Mevotech vs. Moog vehicle suspension parts for the aftermarket.
Mevotech vs Moog Wheel Bearings and Hub Assembly Comparison
Wheel bearings will keep your vehicle riding smoothly. When they begin to fail, wheel bearings will let you know with a loud rumbling sound.
Mevotech wheel bearings are designed to meet original equipment manufacturer (OEM) requirements for a perfect fit and great performance. The hub assembly is pre-lubricated and ready for a quick installation. Mevotech wheel bearings and hub assemblies come with a one-year warranty.
Moog wheel assemblies also will keep your car silent and wobble-free. These suspension parts are made from heat-treated steel for extra durability and designed to OEM specifications. Moog offers a one-year warranty that can be extended for an additional three years.
Both are quality aftermarket parts, but Mevotech has an advantage on price.
Moog or Mevotech Tie Rods
Both companies produce high-quality tie rods, so the price may be the deciding factor in this battle between Moog and Mevotech. Mevotech control arms include brushings as well as ball joints, making them able to resist abrasions. Moog control arms only have ball joints. Mevotech generally has the edge on lower pricing, so they have a slight advantage on tie rods.
Control Arms Comparison
Easy to install and durable, control arms from Mevotech and Moog will perform well over thousands of miles of wear and tear. Both are made from durable stainless steel to resist corrosion as well as flexing and twisting.
Ball Joints Comparison
Connecting the control arms to steering knuckles, ball joints allow suspension movement independent from wheels. Mevotech ball joints are affordable but still well made and durable. Moog's option is designed to reduce friction and will stand up to heavy use.
Mevotech vs. Moog Sway Bar Links Comparison
Sway bar links transfer weight between the two sides of a vehicle and prevent too much leaning when turning.
Mevotech sway bar links come with durable metal bearings and a rust-resistant coating. Moog's option comes with bushings, coated washers, and a barrel lock, so it's ready for installation.
Mevotech vs. Moog Non-technical Comparison
Mevotech and Moog are both well-respected manufacturers of vehicle suspension parts for the aftermarket. Technically, they're comparable, with both meeting OEM standards. Here are some key non-technical differences between the two companies' parts.
Pricing
Mevotech is known for having prices that are lower than Moog's, but their quality doesn't suffer. This gives them an edge over Moog in the aftermarket parts battle.
Durability
Both Mevotech and Moog make durable suspension parts, but Moog's may be a little longer wearing since they are made from steel that has been heat-treated for additional strength.
Overall Performance and Functionality
Moog and Mevotech are both excellent manufacturers of suspension replacement parts. Their products are sturdy and durable, performing well under heavy use. Moog's quality and performance are best in class, but Moog's prices are higher. Mevotech is slightly more affordable, and many say Mevotech quality is in Moog's league.
Company Specialization and Market Approach
Although both make quality suspension parts, Mevotech and Moog have their differences. Mevotech has specialty brands like TTX and Mevotech Supreme that help tailor the parts to the automotive need and use.
Moog doesn't have different branding to denote which parts are best for certain uses. Instead, Moog focuses on being user-friendly, pre-mounting parts for easy installation, and educating customers on its parts so they can choose the right one for their vehicle. Moog quality can stand up to all levels of use.
Warranty
Moog offers a lifetime warranty on ball joints, tie rod ends, and U-joints, but less expensive options are covered with a one-year warranty that can be extended to three years.
Mevotech replacement suspension parts come with a limited lifetime warranty, giving them an edge overall when it comes to parts warranties.
Moog and Mevotech performance and quality may make a warranty on their parts something you won't need, but it's a comfort to have that protection.
Customer Care and After-Sales Service
Moog may have an advantage over Mevotech since it is the more customer-focused of the two companies. It focuses on user experience and takes extra steps to educate customers and to make installation of parts easy. That makes after-sales service less likely. When you do have a problem, both companies have positive customer service reviews.
Overall Pros and Cons of Mevotech and Moog Suspensions
Both companies offer plenty of benefits, and they each have a few disadvantages, too.
Mevotech pros are that their components are less expensive and carry a limited lifetime warranty. Its cons are that their quality, durability, and user experience are good but may not be Moog's equal.
Moog has higher prices, a con usually, but you do get what you pay for. Moog quality and durability are excellent, and parts are designed for easy installation. Moog's warranties are usually shorter, with only a few having lifetime warranties.
Mevotech vs Moog – Pros and Cons
| | | | |
| --- | --- | --- | --- |
| Pros | Cons | Pros | Cons |
| Limited lifetime warranties | Quality and user experience are good but not as good as Moog | Tops-in-class quality and durability | Most warranties are three years or less |
| Affordably priced | Durability is good, but Moog parts outlast them | Well-designed aftermarket parts | Few limited lifetime warranties |
| Durable parts that exceed original parts' quality | More difficult to install | Easy installation | Higher prices |
So, Which Brand Is Suitable for You?
In the battle of Mevotech vs. Moog, each has advantages, and both offer durable, high-quality suspension parts. Mevotech provides lower prices and better warranties, but Moog is more user-friendly.
Personal preference and what works best for your vehicle should be your guides to aftermarket suspension parts. Your aftermarket parts budget and vehicle usage will also come into play.
Mevotech or Moog, you'll have suspension replacement parts for your vehicle that meet or exceed the original equipment manufacturer's standards, giving your car or truck a smoother, safer ride and improved performance.
Frequently Asked Questions
You may still have questions when comparing Mevotech and Moog parts. These frequently asked questions may give you the answers you need.
What country are Moog parts made in?
Moog is a global company, manufacturing parts in 16 countries, including the United States, China, Germany, Canada, France, Great Britain, India, Indonesia, Italy, Japan, Mexico, South Korea, Spain, Taiwan, Thailand, and Turkey.
Is Mevotech made in China?
Mevotech is a Canadian company, headquartered in Toronto, and its suspension parts are made in Canada and North America.