When choosing the perfect color for your car, white is always a classic choice.
However, with so many shades of white available on the market today, it can be tough to know which one is right for you.
Two options are Oxford White and Star White – both from Ford's collection of paint colors.
While these colors may seem similar at first glance, key differences exist in their finish, undertones, and availability.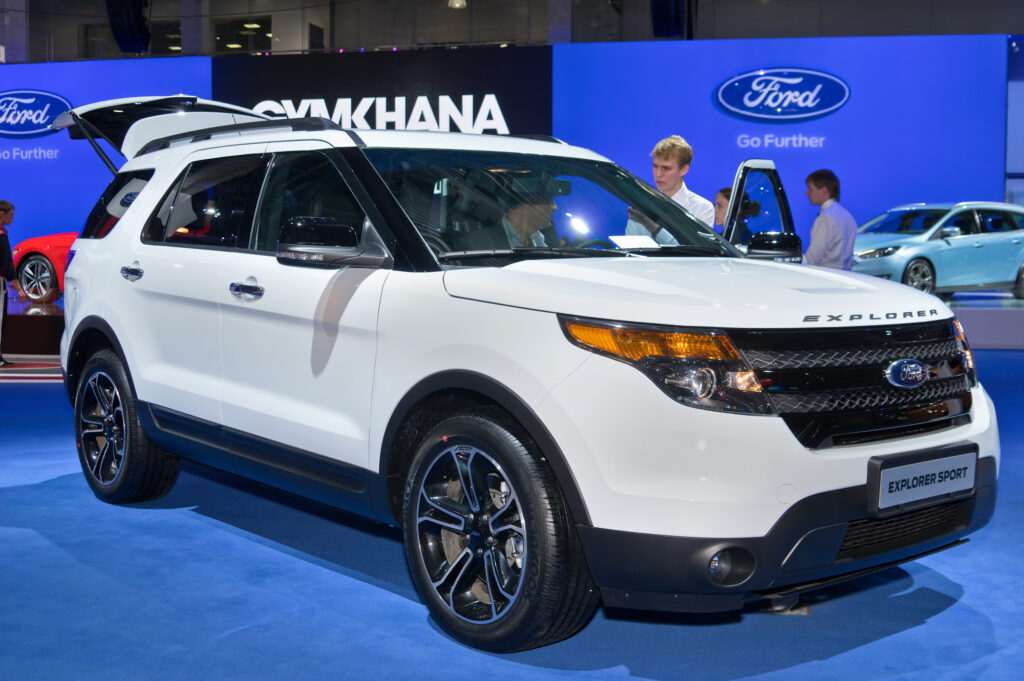 Ford Star White Overview
Ford's Star White is a relatively new addition to their lineup of vehicle paint. Ford introduced the color in 2019 as an optional paint scheme for the Explorer SUV.
Since its introduction on the Explorer, Star White has expanded to include Ford models, including the Expedition and F-150 pickup trucks.
Star White has a pearlescent white finish that gives off a subtle shimmer in the sunlight, creating a luxurious and high-end look. It quickly became popular among consumers looking for a modern, sophisticated alternative to the traditional Oxford White.
While it doesn't have the same history as Oxford White, Star White has recently become one of Ford's most frequently used paint colors due to its unique style and appeal to consumers looking for something different.
Paint Code
The paint code for Ford Star White is AZ/M7446.
Oxford White Paint Overview
Oxford White has a longstanding history in the Ford lineup. It was first introduced as a standard color option in the 1997 model year for the F-150 pickup truck. Since then, it has become one of the most favored paint colors across Ford's entire lineup of vehicles.
One reason for its widespread admiration amongst Ford drivers is that Oxford White is a versatile color that looks great on any vehicle – from trucks and SUVs to sports cars and sedans. It also provides a classic, timeless look that never goes out of style.
Over the years, Ford has offered different variations of Oxford White on their vehicles, including metallic and pearl finishes. However, the original bright white with a high gloss finish remains the most popular choice among consumers.
Oxford White has become an iconic paint color for Ford, representing quality, durability, and style across their entire lineup of vehicles.
Paint Code
The paint code for Oxford White is /YZZ1/M6887.
Differences
Oxford White and Star White may look almost identical to the untrained eye.
However, upon closer inspection, there are some noticeable differences between these two shades of white car paint.
This section will explore the distinctions between Oxford White and Star White.
Undertones
Ford's Star White paint has a slightly warm undertone, which sets it apart from other shades of white. This warmer undertone gives the color a creamy, ivory-like appearance that can appear particularly striking in bright sunlight.
It's worth noting that the exact shade and undertones of Star White may vary depending on the specific model of car or truck it's applied to. However, you can expect this color to have a slightly warmer tone than Oxford White.
Ford's Oxford White paint is a classic white shade known for its crisp, clean appearance.
Unlike Star White, Oxford White has cool undertones. This shade of white is often described as "pure" or "bright," and it can make any vehicle look sleek and modern.
Availability
Oxford White tends to be more widely available across different models and trims, as it is a classic color often used as a standard option.
On the other hand, Star White may be more limited regarding availability, as it is an optional premium color on higher-end models or packages.
Finish
Star White's pearlescent finish gives the color a subtle shimmer and depth you won't find in solid colors like Oxford White. Ford achieves this finish by adding small pearl-like particles to the paint that reflect light differently than the base color, creating a unique and eye-catching effect.
Ford's Oxford White paint has a glossy finish for a sleek and polished look. The high-gloss finish of this paint reflects light well, which can help enhance the vehicle's overall appearance.
This type of finish is also relatively easy to clean and maintain, as it tends to be more resistant to dirt and grime than pearlescent finishes.
Reflective Elements
Ford's Star White has reflective flecks that appear when light hits it at certain angles. These sparkles are ceramic mica, which creates a subtle glow when light passes through them.
Oxford White is a flat color, lacking the shimmer and sparkle of Star White.
Pros and Cons
Star White
Oxford White
Pros
Cons
Pros
Cons
Visually stunning pearlescent finish
Can look cream or yellow in some lights
Scratch repair kits are widely available
Looks flat compared to Star White's multidimensional shine
Sleek and modern
More difficult to color match
Classic and clean
Shows "swirl" marks from washing
Excellent resale value
Suspectible to scratches
Hides scratches and dirt very well
Simple; doesn't stand out in a crowd
Resists fading and oxidation
Expensive to upgrade
Keeps car interior cool
Difficult to blend out paint touchups
So, Which White Should You Pick for Your New Ford Truck?
The choice between Star White and Oxford White ultimately comes down to personal preference.
If you prefer a classic, solid white color without added shimmer or sparkle, Oxford White may be your better option.
On the other hand, Star White may be the way to go if you want a more unique and eye-catching color with a subtle pearlescent finish.
It's also worth considering whether Star White is available as an optional upgrade on the specific model of Ford truck that you are interested in.
Ultimately, both colors are excellent options.
FAQs
If you're looking for answers to common questions about our Oxford White and Star White, you've come to the right place!
Check out our list of frequently asked questions:
Is white a bad color for a truck?
White is not a bad color for a truck; it is the most prevelent color choice on the road. White is a classic, timeless color that can give your vehicle a clean, crisp appearance.
Another advantage of white trucks is that they tend to hold their value well over time. White is a neutral color that is appealing to a wide range of buyers, making it easier to sell or trade-in your truck in the future.
Is Ford Oxford White metallic?
No, Ford Oxford White is not a metallic color. It is a solid white color with no metallic flakes or other reflective elements.
It is a popular choice for those who prefer a traditional look for their vehicle.
Is Star White the same as Platinum White?
Ford's Star White and Platinum White are two different colors.
Star White's pearlescent finish gives it a subtle shimmer and can appear slightly off-white in certain lighting conditions.
Platinum White, on the other hand, has a metallic finish that gives it a brighter, more reflective look than Star White.
The undertones of these colors may also differ slightly. For example, some people describe Platinum White as having a slight silver or gray tint to it.
Is Ford Star White a Tri-Coat?
Yes, Ford Star White is a tri-coat color, which means it consists of three layers of paint: a basecoat, a mid-coat, and a clear coat.
The basecoat provides the primary color, while the mid-coat adds depth and richness. The clear coat is the final layer that provides protection and adds gloss to the finish.
The tri-coat process creates a more complex and dynamic color that can change in different lighting conditions, giving it a premium and luxurious appearance.