An exhaust system is a critical component in internal combustion engines because it is the channel through which burnt fuel fumes exit. If you need a high-quality exhaust system, two brands stand out for aftermarket mufflers. These are MagnaFlow and Flowmaster.
So, which one should you pick? Read on to find details about the two brands, how they are different from each other, and the factors you need to consider before choosing an exhaust system.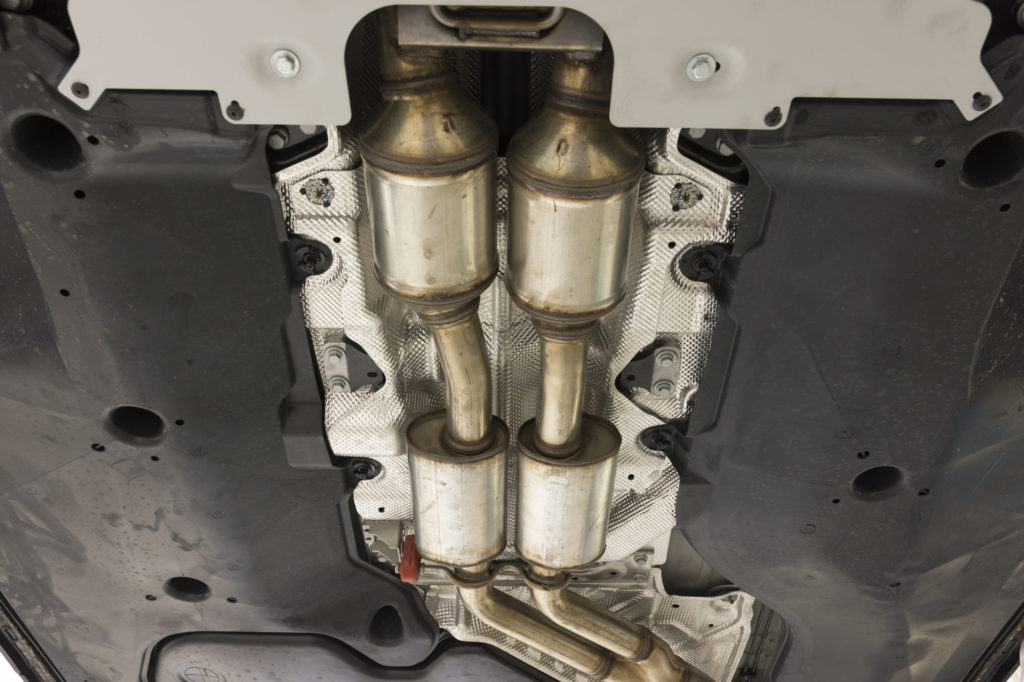 How to Choose an Exhaust System
In addition to being the channel for releasing waste gases from the engine, exhaust systems (mufflers) regulate an engine's backpressure, which directly impacts performance.
Backpressure comes about when there is a restriction of airflow out of the cylinders after combustion. A muffler regulates the pressure to keep the motor performing efficiently.
The cylinder valves also release exhaust gases at high pressure, which creates a pulsating noise that gets pretty loud as it moves through the exhaust pipe. Mufflers help to minimize this noise by regulating the flow of these pressurized gases.
Therefore, when shopping for an aftermarket muffler exhaust system, ensure it has some resonation mechanism that produces a more tolerable sound at the tail end.
While doing this, the system should not be restrictive to the airflow to avoid creating back-pressure. It should also be durable enough to withstand hot gases and rusting.
MagnaFlow and Flowmaster produce exhaust systems that fit this description perfectly, so if you are looking for the best aftermarket mufflers, these two are the best brands to consider.
There are many more features to consider but more on this later. Let's take a closer look at these two brands to see why they stand out in this industry.
MagnaFlow vs. Flowmaster
| | | |
| --- | --- | --- |
| | MagnaFlow | Flowmaster |
| When it started | 1981 | 1983 |
| Exhaust Design | Straight through | Chambered |
| Durability | Stainless steel (rust-free) | Aluminized steel or stainless steel (Both rust-free) |
| Performance | Increases horsepower by about 10% and meets the emission standards set by most states | Maximizes the exhaust flow and engine performance by 10 – 15 units, making them perfect for auto sports |
| Muffler Sound | Mild with a deep tone | Precisely tuned rumble |
| Product Variety | Performance mufflers, cat-back & axle-back exhaust systems, custom exhaust parts, catalytic converters, etc. | Different muffler types, exhaust systems, header & exhaust manifolds, exhaust tips, X/Y/H pipes, catalytic converters, etc. |
| Price | Most mufflers cost around $100 but exhaust systems are expensive, with some exceeding $4,000 | Most mufflers range around $100 or less, but some exhaust systems cost about $1,000 – $2,000 |
| Warranty | Limited lifetime for stainless steel mufflers and 1-year limited for aluminized steel mufflers | Limited lifetime for stainless steel mufflers and 3-year limited for aluminized steel mufflers |
Pros and Cons of MagnaFlow
Pros
Quick flow design boosts horsepower by up to 10%
Minimizes engine heating and backpressure
Durable stainless-steel construction
Limited lifetime warranty against manufacturer defects
More subtle and gives a smooth ride
Cons
Some MagnaFlow exhaust mufflers require expensive professional installation
Aging MagnaFlow systems can have a high drone intensity
Aluminized steel mufflers only come with a 1-year limited warranty
Pros and Cons of Flowmaster
Pros
Perfect for racing (increases horsepower by 10 – 15 units)
Wide range of chambered designs for loud sound or quieter output
Durable aluminized steel or stainless-steel construction with full MIG welding
Mandrel-bent tubing for seamless exhaust gas flow
Handles drone better
Cons
Some mufflers are not CARB compliant
Can be extremely loud when cold starting the engine
About MagnaFlow
Launched in 1981, MagnaFlow started as an extension of its parent company, Car Sound Exhaust, which specializes in developing performance exhaust and superior catalytic converter technology.
MagnaFlow operates under three philosophies: quality, power, and sound. Under quality, the brand ensures you get the best components available using the latest technology for high performance and maximum durability. After all, the company is ISO-9001 certified and backs all its products with a lifetime warranty.
With a massive R&D department, the company pegs its performance on producing power, and if an exhaust system does not meet these standards during research, it will not go to production. They have several sound-testing types of equipment, in-ground dynamometers, and flow benches to check the performance standards for every new part before going into production.
Lastly, the sound output is a critical part of each muffler. The company ensures each one features an efficient straight-through design with a stainless steel perforated core, acoustic fiber, and mesh wrap to produce a smooth, deep tone.
MagnaFlow is part of three brands that Car Sound Exhaust represents. The other two are BRExhaust and Rumble, and these cement the company's position as a leader in the performance exhaust and replacement industry.
Best-selling MagnaFlow Products
You should pick a MagnaFlow exhaust system or muffler based on your requirements or preferences, but these three stand out as some of the best products in the lineup.

Specifically designed for Jeep Wranglers (2012 – 2017) and the Jeep Wrangler JK (2018), the Rock Crawler (15237) features quick-flowing mandrel-bent pipes (2.5-inch diameter) to minimize exhaust gas restriction.
It also features a compact muffler to ensure your vehicle gets a high ground clearance so that you can engage in off-road rock crawling without worrying about damaging the system.
The unit replaces the OEM parts from the catalytic converter, and it utilizes the latest 3D scanning technology plus CNC robotic manufacturing to ensure a perfect fit. Once installed, it delivers high performance that exceeds the original system.
Durability is a crucial aspect of the brand, and the Rock Crawler lives up to its expectation. It has a highly corrosion-resistant stainless-steel structure that will last your Jeep's lifetime.
Furthermore, it comes with a limited lifetime warranty, so you can purchase the unit worry-free and expect a replacement or refund if there are any manufacturer defects.
If you are looking for a muffler only, the 10416 is one of the highest-rated MagnaFlow models, and customers like it due to its drone killing performance.
It features a high-temperature two-stage acoustic packing material, a stainless-steel mesh, and a straight-through perforated core that cancels out most of the noise to produce a great-sounding deep resonant tone.
All these components are in a 4-inch diameter round center, while the inlet and outlet measure 2.5 inches in width, so there are no restrictions on the exhaust flow.
The muffler's appearance matches its performance because it has a premium brushed satin finish that will make your vehicle look good and sound better. Heavy-gauge stainless steel is the underlying material, and it has welds plus lap joints to maximize durability.
You can install the component in any vehicle because it has a universal fit. But the process requires welding and fabrication, so MagnaFlow recommends getting a professional to do the fitting.
As with other MagnaFlow parts, this muffler comes with a limited lifetime construction warranty, making the purchase worry-free.
The model 14832 is somehow similar to the 10416 but has a broader 5 x 8-inch oval center that houses more material packing to deliver a smooth, deep tone out of your vehicle. Even though the inlet and outlet diameters are slightly smaller (2.25 inches), they do not constrict the airflow.
Another key difference is the exterior. If you prefer a polished, mirror-like finish, this model is the go-to option. The underlying material is highly corrosion-resistant stainless steel, which means you should expect good looks and maximum durability.
The muffler has a universal fitting design and is fully reversible, which enables you to install it from either side. However, it may require special automotive knowledge for welding, cutting, or custom fabrication, so it is better to get professional installation.
About Flowmaster
Flowmaster came into existence two years later than MagnaFlow (1983) and has built a reputation in the performance exhaust industry, particularly with muscle cars and hot rod enthusiasts.
The reason behind this reputation is the signature precisely-tuned rumble noise their mufflers produce at idle and a deep groan when you step on the gas.
Add to this their race-intensive colors, durable construction, and cutting-edge technology, and you get high-quality parts that perform as well as they sound. Flowmaster systems can increase an engine's power output by 10 – 15 units, making it perfect for small engines.
The underlying technology behind their products is a chambered/laminated construction, which features sophisticated sound muffling mechanisms with no packing. It creates the signature crisp, clear rumbling sound with minimal straining of the flow.
Best-selling Flowmaster Products
Some of the highest-rated Flowmaster mufflers include the following.
Designed for the GMC Yukon (excluding XL) and 2015 – 2020 Chevy Tahoe, the Flowmaster 817704 is the ideal exhaust system for anyone looking for mild to moderate sound output.
The cat-back system consists of mandrel-bent stainless steel tubing connected to a Super 50 series muffler and on the back to a 3-inch mandrel-bent stainless-steel tailpipe.
What we are interested most in the system is the Super 50 series muffler. It has three-chamber Delta Flow technology that delivers minimal interior resonance, making it perfect for performance street cars and muscle engines due to the rumbling sound it generates.
The muffler has a 409SS stainless steel construction that is fully MIG-welded to maximize durability.
The front and rear pipes are stainless-steel tubes but with a polished surface, unlike the black surface of the muffler. With such a construction, the entire component is corrosion-resistant and very durable. On top of that, you get a limited lifetime warranty, so the purchase is risk-free.
You also get a polished stainless steel oval tip with the Flowmaster logo stamped on it and all the required installation hardware.

The name says it all. Flowmaster Outlaw mufflers do not "observe" the law because they are very loud. They have no internal packing to blow out and provide minimal decibel reduction, so they come in handy for racing applications with muffler rules but no decibel limit.
Additionally, the component helps the engine achieve maximum torque and horsepower, so you can expect better performance when racing.
The Outlaw has a fully welded 16-gauge aluminized steel construction to maximize durability and comes with a 3-year limited warranty to safeguard your purchase during its first few months in use.
Another unique feature is its 4-inch round shape, which consumes little space and leaves a small footprint under cars.
The 942545 Super 44 Series muffler utilizes the same race-proven Delta Flow technology used in the larger Super 40 series. It combines this with its noticeable two-chamber interior resonance to deliver a powerful, deep-sounding rich tone.
Compared to other street mufflers with a four-inch case, this model is the most aggressive that Flowmaster has ever produced in their lineup.
The two chambers fit inside an oval body, and the entire structure consists of a sturdy MIG welded 16-gauge aluminized steel construction to enhance durability.
2.5-inch inlet and outlet pipes provide the attachment points for installation, and they help channel the hot gases out with minimal restriction. Compatibility is also one of the key advantages because the 44 series muffler can fit in four- & six-cylinder engines, classic & late model muscle cars, trucks, SUVs, street rods, and street/strip cars.
Since it does not affect vehicle emissions and no emissions regulations cover it, the component is legal to use in emissions-controlled cars, non-emission-controlled vehicles, and racing cars only.
Factors to Consider When Buying a Car Exhaust System
To get a better understanding of the differences between the two, we will look at these categories.
Exhaust Design
The main difference between the two brands is in their exhaust designs. MagnaFlow mufflers have a straight-through internal structure that contains a stainless-steel perforated core, stainless steel mesh wrap, and an acoustic fiberfill material as the packing.
Such a design offers better noise-canceling performance, and this is what makes MagnaFlow systems quieter.
On the other hand, Flowmaster exhaust systems have a chamber-style interior with no packing material. The chamber has several metal plates (baffles) instead, which separate the sound waves, then collide them against each other to cancel them out.
Even though the design is louder, it promises a relatively consistent sound output right after installation, but MagnaFlow exhausts can take up to 400 miles before producing their expected sound.
Durability
Both companies produce durable mufflers and exhaust systems, with most having a stainless-steel or aluminized steel construction.
The former utilizes welds and lap joints to make the structures sturdier, while the latter uses full MIG (Metal Inert Gas) welding to stick the pieces together. Both methods create sturdy designs, so this is a tie.
Performance
When considering performance, we will look at the horsepower. The straight-through design found in MagnaFlow systems creates zero flow restrictions, which means the hot gases escape quickly and leave the engine to close and open the cylinder valves optimally.
As a result, the mufflers can increase your car's engine power output by up to 10% compared to stock exhaust systems.
However, Flowmaster exhausts have chambered designs with baffles that tend to slow down the flow of the gases a little bit. The system handles this inefficiency using a scavenging effect.
The effect creates a natural vacuum that makes the exhaust gases exit faster than the inlet speed, making the system more efficient than stock exhausts.
It ends up improving an engine's output by 10 – 15 units, which works perfectly if your car has a small motor. The 15 units can be more than a 10% increase in horsepower.
However, MagnaFlow systems are usually more efficient in large engines but do not produce the beautiful growling sound that every V8 deserves. Sound or efficiency? Pick what you prefer.
Muffler Sound
MagnaFlow mufflers are quieter, especially during cold starts. They begin with a high pitch that reduces gradually, resulting in mild sound output. However, they take a longer time to settle into their normal sound when revving and accelerating.
On the other hand, Flowmaster systems handle drone output better and produce the best sound when accelerating or revving the engine due to their low, controlled pitch.
Each has its upsides and downsides, so it is a tie.
Product Variety
Each brand has a wide array of products in its lineup. MagnaFlow produces competition, street, and race series of exhaust systems. They also have direct-fit catalytic converters, universal-fit mufflers, and builder kits for making custom exhaust systems.
On the other hand, Flowmaster produces performance exhaust systems, stainless steel & aluminized steel mufflers, exhaust kits, and accessories for different vehicle types.
Price
As per the manufacturer websites, MagnaFlow and Flowmaster mufflers cost around the same price of $100. But some, especially for the latter, are expensive. The same case applies to exhaust systems, which are costlier on the MagnaFlow side, with some going over the $4,000 mark.
Warranty
MagnaFlow offers the following warranties:
Limited lifetime warranty on stainless steel mufflers and exhaust systems
1-year limited warranty on aluminized mufflers
1-year warranty on black finish systems, limited lifetime warranty stainless steel parts)
No cover for carbon fiber system parts, limited lifetime warranty (stainless steel parts)
1-year warranty on titanium finish systems, limited lifetime warranty (stainless steel parts)
On the other hand, Flowmaster offers the following:
Limited lifetime warranty on stainless steel mufflers (excluding FlowFX series)
Limited lifetime warranty on stainless steel exhaust systems (excluding FlowFX series)
Limited lifetime warranty on stainless-steel parts (excluding exhaust tips)
3-year limited warranty on Aluminized mufflers, exhaust systems, and parts
2-year limited warranty on Delta Force dry air intake filter elements
1-year limited warranty on FlowFX series mufflers and exhaust headers (Elite Series)
1-year limited warranty on electronic components
Bottom line: Which is Better — MagnaFlow or Flowmaster?
If you prefer a quiet exhaust system, MagnaFlow mufflers and exhaust systems are your best bet
To boost the horsepower of a large engine, go with MagnaFlow
If you prefer a tuned rumble and echo as you drive, install a Flowmaster product
Small engines benefit more from Flowmaster mufflers due to the 10 – 15 power unit increase
FAQs
What's the main difference between MagnaFlow and Flowmaster?
Flowmaster units have a chambered muffler, while MagnaFlow produces straight-through muffler designs. Flowmaster products are more hollow due to their chambers, resulting in a distinct aggressive sound that works best with large engines such as V8s. It makes them sound like big blocks with a tuned rumble.
On the other hand, MagnaFlow mufflers are denser due to their stainless-steel perforated core, mesh wrap and acoustic fiberfill material packing. Although they are somewhat loud, this type of packing makes the sound mild and cleaner with a deep tone.
If you want to turn heads, go with Flowmaster mufflers. But if you prefer to drive by smoothly, install a MagnaFlow muffler.
What exhaust system sounds the best?
It depends. If you prefer the beautiful growl that Flowmaster mufflers produce, they are better. However, if a quiet output seems more enjoyable for your day-to-day driving, MagnaFlow is better. It is impossible to decide this for you because this is a matter of personal preference.
Do MagnaFlow mufflers add horsepower?
Yes. Some aftermarket mufflers might restrict the flow of exhaust gases out of the engine, resulting in back pressure, which reduces performance. However, MagnaFlow and Flowmaster mufflers allow the gases to pass through quickly, and by doing so, the former can increase engine horsepower by up to 10%.
What is the loudest MagnaFlow muffler?
MagnaFlow's straight-through muffler design is generally quieter than the chambered design found in Flowmaster units. However, some of their Race Series products, such as the MagnaFlow 19363, produce a loud, aggressive output. These are some of the most aggressive in their lineup.
What is the loudest Flowmaster muffler?
Flowmaster exhaust designs are generally loud, and this is why they are better for turning heads. However, they have different loudness intensities. The Outlaw has that name for a reason. It is the loudest of them all.
Even though it has a simple straight pipe design, the muffler can deafen a crown at a dragstrip, and you can only use it for racing purposes in events where there is no decibel limit. The product is not legal to use on regular roads.